Turandot: Summary
In China, Princess Turandot refused to marry and issued three difficult riddles to the man who proposed marriage to her. If the man fails to solve the riddles, he is executed.
Calaf, a foreign prince, is reunited with his father in Beijing. Calaf and his father have been forced to flee their country. Calaf's father had arrived in China with the help of a slave, Liù.

Calaf
Who are you? Why have you been so kind to my father?

Liù
I am a slave in your country. Because in the distant past, in the palace, you smiled at me.
Calaf falls in love at first sight with Turandot. He decides to try to solve the riddles.
Calaf succeeds in solving the riddles. She refuses to marry him.

Turandot
Are you going to force me to marry you?

Calaf
No, Princess. I want you, who are burning with love.

You have given me three riddles, I have solved them. I'll give you one. You do not know my name.

You have until dawn to tell me my name. If you tell me my name, I will die.
Liù, who knows Calaf's name, is tortured.

Liù
Oh, I can't bear the torture. The icy princess will be melted by his fire. You will love him too.
Liù dies to keep Calaf's name hidden. Calaf and Turandot are married.
Turandot: Character Map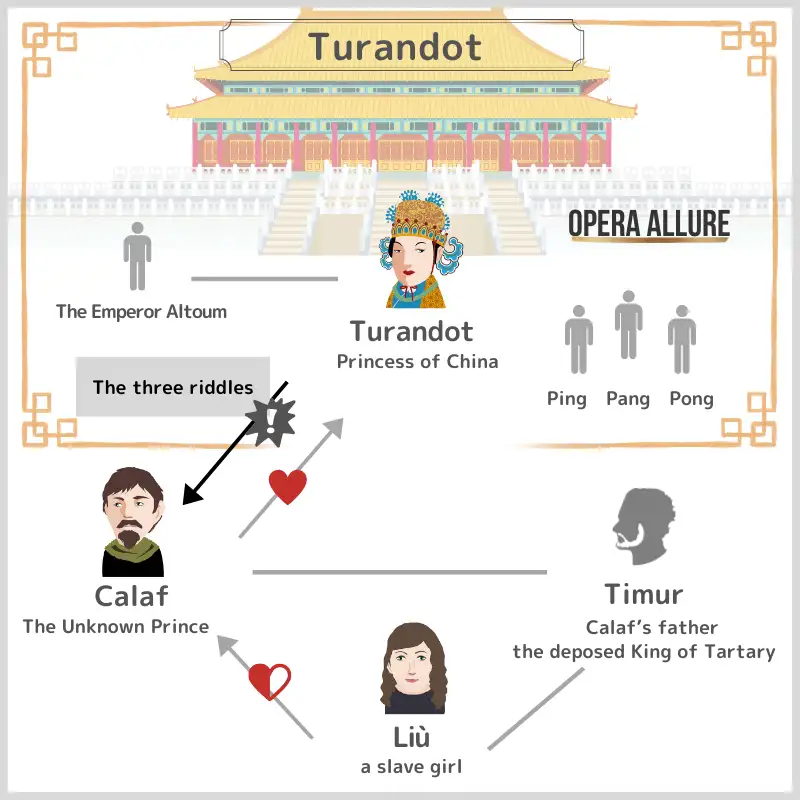 Turandot: Roles
| | | |
| --- | --- | --- |
| Turandot | Princess of China | soprano |
| Calaf | The Unknown Prince | tenor |
| Liù | a slave girl | soprano |
| | | |
| --- | --- | --- |
| Timur | The deposed King of Tartary | bass |
| Altoum | Emperor of China | tenor |
| Ping | Lord Chancellor | baritone |
| Pang | Majordomo | tenor |
| Pong | Head chef of the Imperial Kitchen | tenor |
| A Mandarin | Chinese officials | baritone |
Native title: Turandot
Composers:

Giacomo Puccini

Librettist: Giuseppe Adami, Renato Simoni
Based on: Turandot by Carlo Gozzi
Language:

Italian

Premiere: April 25, 1926, La Scala, Milan
Running time: 2 hours 10 minutes (Act 1: 35 minutes, Act 2: 50 minutes, Act 3: 45 minutes)