La traviata: Character Map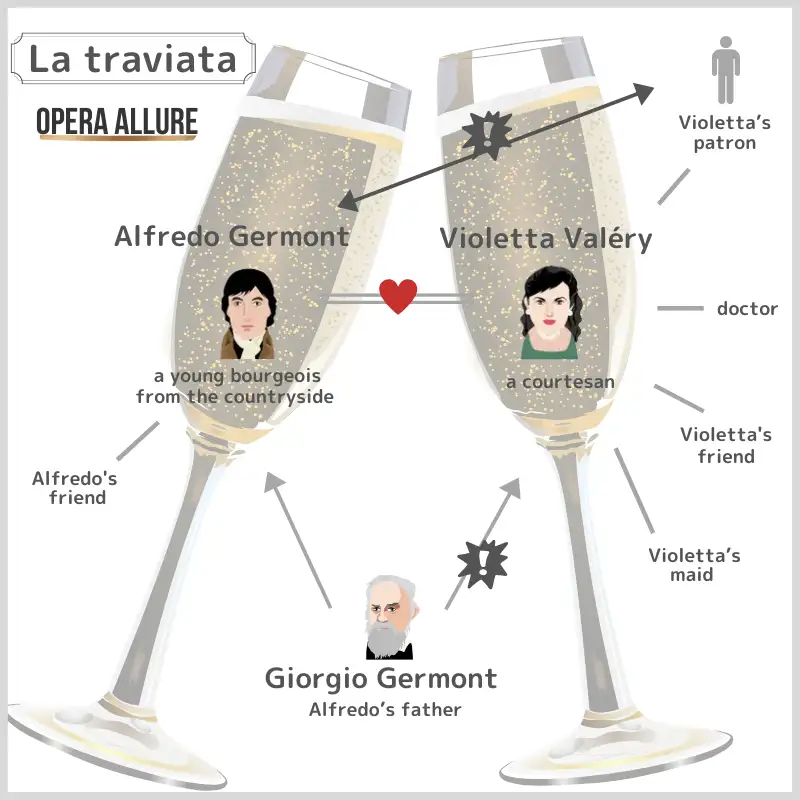 La traviata: Roles
| | | |
| --- | --- | --- |
| Violetta Valéry | a courtesan | soprano |
| Alfredo Germont | a young bourgeois from the countryside | tenor |
| Giorgio Germont | Alfredo's father | baritone |
| | | |
| --- | --- | --- |
| Flora Bervoix | Violetta's friend | mezzo-soprano |
| Annina | Violetta's maid | soprano |
| Gastone de Letorières | Alfredo's friend | tenor |
| Barone Douphol | Violetta's patron | baritone |
Native title: La traviata
Composers:

Giuseppe Verdi

Librettist: Francesco Maria Piave
Based on: La Dame aux camélias by Alexandre Dumas fils
Language:

Italian

Premiere: March 6, 1853, Teatro La Fenice, Venice
Running time: 2 hours 10 minutes (Act 1: 35 minutes, Act 2: 60 minutes, Act 3: 35 minutes)
La traviata: Short Synopsis
Violetta, a courtesan suffering from tuberculosis, and Alfredo, a young bourgeois man from the south of France, fall in love.

Violetta
Please come and see me when these flowers wither.

Alfredo
Violetta has quit her job as a courtesan and is living with Alfredo in the suburbs of Paris. Germont, Alfredo's father, comes to see Violetta.

Germont
Please be an angel of comfort for my family.
At Germont's request, she decides to leave Alfredo. Violetta leaves him without explaining. Alfredo mistakenly believes that she has chosen money over love. He insults her in front of people.
A few months later, Violetta's illness worsens. Alfredo and Germont rush to her, but Violetta dies.
La traviata: Act1, Synopsis
The drawing room in Violetta's house
Paris around 1850. At night. Violetta is chatting with a group of gaily dressed people. She greets Flora and her guests, who have arrived late.
Guests
Sorry for the delay. We had a great time at Flora's soiree and the time flew by.

Violetta
Thank you, Flora and friends, for coming. Let's enjoy the rest of the evening.
Flora
I'm worried about your illness if you keep playing like this.

Violetta
Surrendering to joy is the medicine that cures my illness.
Gastone enters with Alfredo.
Gastone
I'd like you to meet Alfredo Germont. He is a very good friend of mine.

Violetta
Thank you for introducing him.
Violetta holds out her hand and Alfredo kisses it.

Violetta
Come on, everybody, let's have some fun.
Gastone
Alfredo always thinks of you. When you were sick, he came here to check on you.

Violetta
Please don't. I'm nothing to him.
Gastone
But I'm not lying.

Violetta
(To Alfredo) Why? I don't understand.

Alfredo

Violetta
Thank you for your consideration. The Baron didn't care that I was ill, did he?
Barone Douphol
I've only known you for a year.

Violetta
He's only known me for a few minutes.
Barone Douphol
(whispers to Flora) I don't like this young man.
Gastone
Baron, would you like to read a poem at this delightful time?
The Baron refuses.
Gastone
Well, Alfredo, how about you?
Alfredo refuses at first, but Violetta urges him to read the poem.

Alfredo
Drink a glass of joy. Let's drink the sweet crush that brings love. (looks at Violetta) For a certain eye has an almighty power over my heart.

Libiamo, ne' lieti calici

Violetta
I will enjoy spending time with all of you. Anything in this world that doesn't amuse me is crap. Let's have some fun, because the joy of love can easily fade away.

Alfredo
That's because you don't know love yet.

Violetta
It's no use talking to someone who has nothing to do with love.

Alfredo
Waltz music is coming from the next room.

Violetta
Everyone tries to go into the next room. Violetta collapses. She tries to get up and falls down again.

Violetta
I'm a little sick. Everyone, please enjoy yourselves in the next room first.
When the guests leave, Alfredo remains in the room. Violetta looks at her face in a hand mirror.

Violetta
Violetta notices Alfredo.

Violetta

Alfredo
Are you feeling better? I am worried about your health, living like this.

Violetta
How long have you loved me?

Alfredo
I've loved you for a year.

One day you appeared before me. Since that day I have been living in an unknown love. This love is the heartbeat of the whole universe, mysterious and noble, bringing pain and joy to the heart.

Un dì, felice, eterea

Violetta
If this is true, then run away from me. All I can offer you is friendship. I do not know how to love and I do not suffer from such heroic love.

You will have to find someone else. It won't be difficult to forget me. Enough talk of love?

Alfredo
I will follow you. I'll go.
Violetta stops Alfredo and gives him the flowers.

Violetta

Alfredo

Violetta
Please come to see me when these flowers wither.
Alfredo accepts the flowers.

Alfredo
I'll come to see you tomorrow.
The party is over, the guests greet Violetta and leave. Violetta is left alone and thinks of Alfredo.

Violetta
I wonder.

I can't forget his words. Would serious love be unhappy for me? O troubled soul, what shall I do?

It must have been him. He must have been the one I thought of when I was lonely.

È strano! … Ah, fors' è lui

Alfredo
(From afar, Alfredo's voice) That love is the heartbeat of the whole universe, mysterious and noble, bringing pain and joy to the heart.

Violetta
I'm a fool. I'm just a woman, abandoned in Paris. I am having fun and disappearing in joy.

I fly from joy to joy. That's how I lived my life.

Sempre libera degg'io
La traviata: Act2, Synopsis
Scene1
Violetta's country house outside Paris
Three months after their first meeting, they are in a villa on the outskirts of Paris. In the living room of the villa, Alfredo is happy with his life.

Alfredo
It's been three months. Violetta left a life of luxury for me. She's happy here. When I am with her, I feel reborn.

She calms the youthful enthusiasm of my burning heart with a smile of love. Since the day she said, "I want to be faithful to you," I don't know anything about this world, and I almost feel like I'm in heaven.

De' miei bollenti spiriti
A maid enters the room.

Alfredo
Where have you come from?
Annina
I'm back from Paris. At your wife's request.

Alfredo
Annina
I went to Paris to sell Violetta's things, her horse and carriage. Life here is expensive.

Alfredo
II'm going to Paris. Don't tell her I said that.

Oh, my regret! What a shame. Was I to live in such error? The truth came to me in a foolish dream that was about to be shattered. You have my protection. I will wash away this shame.

O mio rimorso!
Alfredo leaves for Paris to get some money. Violetta comes home.

Violetta
Annina
He has gone to Paris. He will be back in the evening.

Violetta
A male servant delivers a letter to Violetta.

Violetta
This is a letter from Flora. She found my hiding place. It's an invitation to a dinner party tonight. It's no use waiting for me…
Alfredo's father, Germont, is visiting.

Germont
I am Alfredo's father. I am the father of a man who is fascinated by you and is on his way to ruin.

Violetta
How dare you say such a thing to a woman. This is my house. I'm leaving. Not for me, but for you.

Germont
My son is about to give you a fortune.

Violetta
You are mistaken. Nothing like this has ever happened to me, and if it did, I would refuse.

Germont
But you seem to live in luxury.

Violetta
I've kept it a secret from Alfredo, but I'll show it to you.
Violetta handed Germont the documents.

Germont
You are willing to give up your possessions for love. Why does the past condemn you?

Violetta
The past does not exist. I love Alfredo now. Through my repentance, God has erased the past.

Germont
What a noble attitude. For this mindfulness, I would like to ask for your sacrifice.

Violetta
Please don't say anything. It must be terrible. I was expecting this.

Germont
As Alfredo's father, I ask for the fate of my two children.

God has given me a daughter who is like an angel. If Alfredo refuses to return to his family, then the young man whose daughter is about to become his bride refuses to commit to her. Do not let the rose of love become a flower of thorns.

Pura siccome un angelo, Iddio mi diè una figlia

Violetta
I'll leave Alfredo for a while.

Germont

Violetta
Should I leave him forever? No. You have no idea how much I love him. I am sick and nearing the end of my days. Do you want me and him to be separated? I'd rather die.

Germont
The sacrifice will be great. But listen to me. You are beautiful and young.

Men are fickle, you know. Even if a man adores you, it will fade with time. What will happen to you? There is no consolation for you. For heaven does not bless such unions.

Please be a consoling angel for my family.
Violetta decides to leave Alfredo.

Violetta
Once a woman has gone astray, even if God forgives her, people won't forgive her, will they? Please tell the pure girl. That there was a sacrifice of a woman.

Dite alla giovine, sì bella e pura,

Germont
Weep. I know that I am asking you for a great sacrifice. My soul feels your pain.

Violetta
Please embrace me as if I were your daughter. Alfred will return to you soon. He will be very hurt. Please comfort him.

Germont
Is there anything I can do?

Violetta
I am going to die. Please don't let him curse the memory of me. I want you to tell him of my grief.

Germont
Live. You will be happy. The gift for these tears will come from heaven.
Germont leaves.
Violetta writes a letter to Flora about attending the soiree and a farewell letter to Alfredo. Alfredo returns.

Alfredo

Violetta

Alfredo
A letter. Who are you writing it to?

Violetta

Alfredo
I'm sorry to pry. I'm worried about you. My father is here.

Violetta
Have you seen your father?

Alfredo
No, he left me a very stern letter. But my father will be pleased when he sees you.

Violetta
I don't want to be surprised. I'll leave you alone, you can reassure your father. I will kneel at your father's feet. We'll be happy. Because you love me.
Violetta was distraught and burst into tears.

Alfredo
You love me very much, don't you? Why are you crying?

Violetta
Look, it's smiling at you. I'll always be with you, in these flowers. Alfred, please love me as I love you. Goodbye.

Amami, Alfredo, amami quant'io t'amo
Violetta is leaving.

Alfredo
She lives for my love! It's late already. My father will not come.
Man's servant
Lady Violetta has gone out. The carriage is on its way to Paris.

Alfredo
I know. She wanted to sell her things. But the maid will stop her.
Another one comes to visit.
Servant
The lady in the carriage asked me to give you a letter.
Alfredo receives a letter from Violetta.

Alfredo
I don't know why I'm trembling. Be brave. "Alfredo, by the time this letter arrives…" Oh!
Germont visits.

Germont
My son. What pain you are in. Wipe away your tears. Now go back to being a proud son.

Who took from you the sea and the land of Provence? Remember your home, my son.

Di Provenza il mar, il suol chi dal cor ti cancellò?

Alfredo

Germont
Was it in vain that I found you? No, let's stop blaming you. Let's go home together. You will be reunited with those who love you.
Alfredo finds an invitation to Flora's soiree.

Alfredo
Will Violetta be at her soiree? I'll have my revenge on her.
Alfredo leaves for Paris. Germont is following him.
Scene2
Party at Flora's house
Flora
Tonight I invited Violetta and Alfredo.
Flora's patron
I heard you broke up. Violetta will be here with the Baron.
Violetta's doctor
When I saw Violetta and Alfredo yesterday, they looked happy.
Gypsy Women
We are gypsies from far away. Let us see the future from your hands.

Noi siamo zingarelle venute da lontano
Gastone and the Bullfighters
We are bullfighters from Madrid. We came to Paris to have fun. Let me tell you the story.

Di Madride noi siam mattadori
The men gathered there begin to make bets. Alfredo appears.
Flora
Didn't you come with Violetta?

Alfredo
Violetta and her patron arrive.
Barone Douphol
(whispers to Violetta) The man is here.

Violetta
I know he is. I know him too.
Barone Douphol
Don't try to talk to him.
Alfredo makes a bet.
Gastone
You've won again.

Alfredo
I'm unlucky in love, so I'm lucky at betting. I'll win tonight and live happily ever after in the country.
Flora
Will you live alone in the country?

Alfredo
No, with someone who went to the country with me. But she ran away from me.

Violetta
Gastone
(To Alfredo) Pity her.
Barone Douphol
(with unpleasant anger) You!

Violetta
(To the Baron) Please be patient. Otherwise I'll leave you.

Alfredo
Baron. You wanted to see me, sir?
Barone Douphol
You're very lucky. I'll take your wager.

Alfredo
You will? I accept the challenge.

Violetta
I don't know what will happen. I'm beginning to feel like dying.
Alfredo is the only winner. While everyone around watches the betting, dinner is ready and the place is cleared.
---
Violetta hurried back into the empty hall.

Violetta
I asked one of them to send him a message so I could meet him here. Will he come? No, I'm sure he'll come. Because he hates me.
Alfredo is coming.

Alfredo
Why did you call me here?

Violetta
Please leave this place. You are in great danger. The Baron is a terrible man.

Alfredo
This is a fight for my life and the Baron's. If the Baron loses, you will lose your lover and your patron. That's what you're afraid of.

Violetta
If the Baron were to kill you, it would be my only misfortune. It would be so terrible that it would be fatal for me.

Alfredo
My death? What does it matter? I can leave if you insist. But you must swear to me. I want you to follow me wherever I go.

Violetta
I… I can't. I have a sacred promise to keep.

Alfredo
Who would make you say that? Is he a patron? Do you love him?

Violetta
Alfredo is furious and calls the people together.

Alfredo
She lost all her money to be my lover. Blind, stupid and unhappy, I accepted everything she did. But the time has come. I want to clear my name. I have called you all as witnesses. I returned the money.
Alfredo throws a bundle of money at Violetta. She faints. Germont arrives amidst the commotion.
All
Terrible. He has killed a sensitive soul. You insulted a poor woman. Get out of here. You've frightened us all.

Germont
I know her virtues. But I can't tell the truth here.

Alfredo
Terrible. What have I done? I don't think she'll ever forgive me.
Violetta, who had fainted, regained consciousness.

Violetta
Alfredo, you don't understand my feelings. It's all for love.

Alfredo, Alfredo, di questo core non-puoi comprendere tutto l'amore…
Barone Douphol
(To Alfredo) I will not tolerate insults to this woman.
All
How painful it is. Everyone here feels your pain. Please wipe away your tears.
Events from Act2 to Act3
Alfredo and the Baron fight a duel. The Baron is injured and Alfredo leaves for a foreign country.
La traviata: Act3, Synopsis
Violetta's bedroom
Violetta's illness is getting worse. She is being cared for by her maid, Annina.

Violetta
Let some light into the room.
Annina has opened the window to look out onto the street.
Annina
I found a doctor in the street. He's coming this way.

Violetta
He's a real friend. Help me get up.
A doctor appears.
Violetta's doctor
How do you feel?

Violetta
My body is in pain, but my soul is at peace. Yesterday, a pious priest comforted me. Religion is the salvation of the afflicted.
Violetta's doctor
It won't be long before you recover.

Violetta
Doctors tell lies out of pity, don't they?
Violetta's doctor
We will meet again.
The maid saw the doctor leave the room.
Annina
(whispers to the doctor) How do you like it?
Violetta's doctor
Her life would be over in a few hours.
The doctor leaves the room.

Violetta
I hear a lot of noise from outside. Is today a day of celebration?
Annina
Paris is in full swing and it's Carnival.

Violetta
Even in the midst of all this celebration, how many people are suffering? Look at the money in the cupboard.

Violetta
Please give 10 louis to the poor. Also, see if there are any letters addressed to me.
The maid leaves. Violetta takes the letter from Germont from her bosom and reads it.

Violetta
A letter from Germont: "You kept your promise to me. There was a duel and the Baron was wounded, but he is recovering. I sent Alfredo away from Paris to keep him away from the disturbances. I told him of your sacrifice. He will return to you to ask forgiveness. I will come to you. Take care of yourself. For a better future than you deserve. Georges Germont."

It's too late.

I've waited and waited, but they won't come for me. The doctors tell me to have hope. With a disease like this, all hope is dead.
Goodbye, happy dreams of the past. The rosy color of my face has already faded. I still miss Alfredo's love.

Please hear the pleas of a woman who has made a wrong turn. Accept me, O God. There will be no flowers or tears on my grave. It's all over.

Addio, del passato bei sogni ridenti
From outside the room, a chorus of people celebrating Carnival.
Annina
Are you feeling well?

Violetta
Annina
Will you promise to stay calm? I wanted to prevent you from sudden joy.

Violetta
Joy! That's what you said. Alfredo. He's here!
The maid goes to greet Alfredo. Alfredo enters the room and they embrace and rejoice.

Violetta

Alfredo
My Violetta. I was wrong. I know everything. I want you to know from the beating of my heart how much I love you. I want you to forgive me and my father.

Violetta
Do you want my forgiveness? I was the wrong one. But it was only love that made me do it.

Alfredo
My love, let's leave Paris. We'll spend our lives together. Your health will return. You will be my breath and my light. All the future will smile on us.

Parigi, o cara, noi lasceremo

Violetta
My love, let's leave Paris. We will spend our life together. My health will return. You will be my breath and my light. All the future will smile on us.
Violetta almost collapsed because of her illness.

Violetta
It's because I'm sick. I'm fine. Look, you're smiling, aren't you?

Alfredo

Violetta
Annina. Get me some clothes. I want to go out.
Annina gives her some clothes. Violetta is too weak to change.

Violetta

Alfredo
(To Annina) Call a doctor.

Violetta
(To Annina) Tell the doctor that Alfredo has returned to my love. Tell him I want to live.

(To Alfredo) If you can't come back and save me, no one on earth can save me. Oh, I'll die young. Our love had a cruel end.

Alfredo
Don't close yourself to hope. Stay calm.
Germont, the doctor and the maid hurry in.

Germont
Violetta. I will keep my promise. I will embrace you as if you were my own daughter.

Violetta
Oh, how late you have come. But I thank you. Doctor, can you see me? I'm being taken care of by someone I love.

Germont
Don't say that. It seems that what she says is true.

Alfredo

Germont
Please don't blame me anymore. Too much regret is eating away at my soul. I can see now that I was wrong.

Violetta
My dear Alfredo. This is a picture of me. May you remember the days you spent with me. If a pure maiden loves you, make her your bride. You must give her this picture. Tell her that it is a gift from those who pray from heaven for your happiness.

Alfredo
No, you won't die. Don't tell me that. You'll live. My love.
Violetta suddenly stands up.

Violetta
That's strange. The pain is gone. A different kind of strength returns to me. I can live, can't I? I'm so happy!
Violetta collapsed on the couch and died.