Carmen: Character Map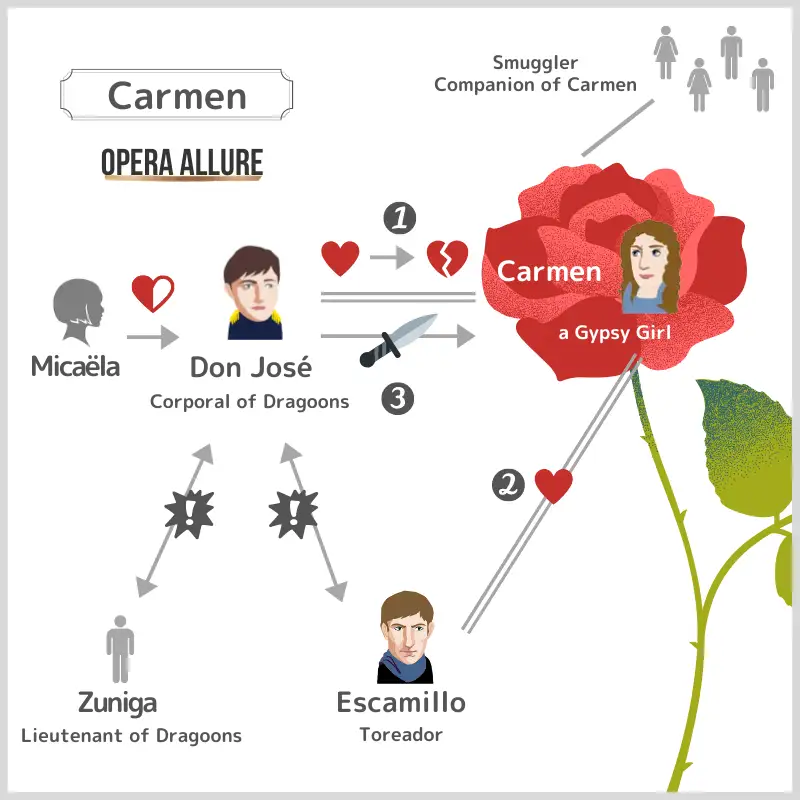 Carmen: Roles
| | | |
| --- | --- | --- |
| Carmen | a Gypsy Girl | mezzo-soprano |
| Don José | Corporal of Dragoons | tenor |
| Escamillo | Toreador | baritone |
| | | |
| --- | --- | --- |
| Micaëla | a Village Maiden | soprano |
| Zuniga | Lieutenant of Dragoons | bass |
| Frasquita | Companion of Carmen | soprano |
| Mercédès | Companion of Carmen | mezzo-soprano |
| Le Dancaïre | Smuggler | baritone |
| Le Remendado | Smuggler | tenor |
Native title: Carmen
Composers:

Georges Bizet

Librettist: Ludovic Halévy, Henri Meilhac
Based on: Carmen by Prosper Mérimée
Language:

French

Premiere: March 3, 1875, Opéra-Comique, Paris
Running time: 2 hours 40 minutes (Act 1: 55 minutes, Act 2: 45 minutes, Act 3: 40 minutes, Act 4: 20 minutes)
Carmen: Short Synopsis
Carmen, a gypsy woman, throws flowers at Don José, a Corporal of Dragoons, on a whim. In a scuffle between the women, José catches Carmen. Carmen seduces José and runs away, and José ends up in jail instead of Carmen.
A month later, Carmen is in a tavern, waiting for José to return from jail. A Toreador, Escamillo, stops by it and falls in love with Carmen.

Carmen
You are free to love me. But don't expect me to love you.

Escamillo
Ah! Well, let's wait and see. Don't give up hope.
José comes to see Carmen. José's passionate love song. José causes with Zuniga. Jose leaves the army and joins a smuggling ring with Carmen.
A few months later, a rocky mountain in the middle of the night with a smuggling ring. They are already on bad terms. Escamillo comes to visit Carmen. José and Escamillo get into a duel. José returns home after learning of his mother's illness.
Carmen and Escamillo are in love with each other. José shows up and kills Carmen.

Don José
Somebody arrest me! I killed the woman I love!
Carmen: Act1, Synopsis
Square in front of a tobacco factory, Seville
While Dragoons are hanging out, José's childhood friend, Micaëla, comes to visit.

Micaëla
Excuse me. Is Don José here?
Corporal of Dragoons
With the changing of the guard, Jose should be here any minute. Why don't you wait for him with us?

Micaëla
Micaëla leaves.
Children
We march with the guards. Blow, trumpet. The little soldier's march.

Avec la garde montante
Don José comes in.
Corporal of Dragoons
A girl is coming to visit you.

Don José
Zuniga came over and started standing around talking with Don José.
Zuniga
Hey, José. I've just arrived at the regiment and I don't know the area. What's this big building?

Don José
This is a tobacco factory. Inside, many female workers roll cigars.

At noon, they come out to this square. Men gather here to watch the women workers. I'm not interested in them, though, because they are all indiscreet women.
Zuniga
You have a girl who just came to visit you. She was wearing a Navarre costume, I heard. Are you from Navarre?

Don José
Yes, I did. I'm from Navarre. I got into trouble in my village and had to leave. So I joined Dragoon.

My father died early, my mother took in an orphan girl and raised her. That was the girl who came to visit me earlier. She is well-liked by my mother and will soon be seventeen, so.
Zuniga
Then you can't look at any other woman.
It was time for the factory lunch break. The women workers came out of the factory with cigarettes in their mouths. Soldiers and men are watching them.
Young men
The bell has rung. The women workers are coming out! Carmen's not here. She's here! It's coming! It's Carmen! Carmen, when are you going to like us?

La cloche a sonné
Carmen, a woman who stands out among the female workers.

Carmen
When I'm going to fall in love with you? I don't know anything about that. Love is a wild bird. You can't tame it.

L'amour est un oiseau rebelle
Young men
Carmen, I'm here to see you. Be nice to me!

Carmen! sur tes pas, nous nous pressons tous
Carmen notices Don Jose, who seems unconcerned, while many men are making eyes at her.

Carmen

Don José
I'm making a chain out of wire.

Carmen
So you're going to stab me in the soul?
Carmen throws a flower at him. She walks into the factory, humming to herself.

Don José
She must have done that because I didn't even look at her. They say cats and women don't come when you call them.

She threw the flowers well. The flower hit me right between the eyes.
He picks up the flower.

Don José
They smell awful. If there's a witch, she's probably like that.
Mikaela visits, again.

Micaëla
I've come from the village to see you. Your mother asked me to run an errand for you.

Don José
Let me know what's going on with my mother.

Parle-moi de ma mère!

Micaëla
It's a letter from your mother. And a kiss from your mother.

Don José
I want to see my mother. I want to go home.

I was almost tricked by a demonic woman. My mother protected me. Please give her back my kiss. Now, let's read the letter.

Micaëla
Wait. I want you to read that letter after I'm gone. I'll come back later to answer your letter.
Micaëla leaves. José reads a letter from his mother.

Don José
"Mikaela is a good girl. If you're willing, take her as your wife."

That's right. I'll do as my mother says. I'm going to take Micaela as my wife. I'm not interested in gypsy women.
When Jose is about to throw away the flowers, there is a commotion in the tobacco factory. The women workers come out to the square and ask the soldiers to intervene. They say that Carmen and the women workers are having a big fight.
Zuniga
José, go check on the tobacco factory.
José goes to check on the factory and comes back.

Don José
Carmen had inflicted a cross-shaped wound on the face of the female worker with whom she was quarreling. The other woman's wounds are shallow and seem to be minor.

It's all true. People in Navarre don't lie!
Zuniga
Carmen, what do you have to say for yourself?
Carmen doesn't respond to him but begins to sing.

Carmen
I won't say anything if you cut me or burn me. I'm not afraid of God.

Tra la la … Coupe-moi、brûle-moi
Zuniga
Jose, tie this woman up with a rope. I'll put you in jail. You can sing all you want in jail. I'll write the order.
Zuniga leaves. Jose and Carmen are now alone. Jose tries not to look at Carmen, and Carmen stares at Jose.

Carmen
You have to let me go. I'm from your hometown. I was kidnapped by gypsies and now I'm here. Why can't you be nice to a girl from your hometown?

Don José
Don't lie to me. You're a gypsy yourself.

Carmen
You got me. But you're gonna let me go. Because you like me. You have the flowers I threw at you.

Don José
I don't know what you're talking about. Don't talk to me anymore.
To escape jail, Carmen begins to seduce Jose.

Carmen
There's a tavern near the walls of Seville. That's where we dance, drink, and make noise. But being alone is boring. I need a new lover.

Près des remparts de Séville

Carmen
I'm thinking. I'm thinking about someone who loves me. If he loves me, I might love him too!
Jose gives in to temptation and loosens the ropes that bind Carmen.

Don José
Carmen. I feel as if I'm drunk. If I'm good to you, will you keep your word? If I love you, will you love me?

Carmen, je suis comme un homme ivre

Carmen
(Whispering to José, singing) There's a tavern near the walls of Seville.
Zuniga came back with the orders. Carmen is pretending to be tied up. Carmen is taken away by the soldiers.
Zuniga
Here are the orders to put her in jail. Keep a close eye on her.

Carmen
(Whispering to José) On my way out, I'm gonna push you and run. Pretend you're down.
Pushing Jose away, Carmen laughs and runs away.
Carmen: Act2, Synopsis
Tavern on the outskirts of town, Seville
At the tavern, dinner is over, the soldiers and gypsy women are enjoying themselves. In the back of the room, a group of gypsy men is playing guitars.

Carmen
A guitar strums, and a gypsy woman stands up. They dance to the music. When the gypsy man plays powerfully, the women dance wildly!

Les tringles des sistres tintaient
Carmen and the women dance furiously. The owner of the tavern calls out to Zuniga, who is watching Carmen.
The owner of the bar
Why don't you go home now? It's closing time. I don't know why, but you seem to be keeping an eye on our bar.
Zuniga
That's right. I'm thinking this tavern is a smuggling den. It's too early to go back to the barracks. I'll take the girls to the play. Carmen, you wanna go?

Carmen
Zuniga
Are you mad at me? Because I tried to put you in jail a month ago. The corporal who let you go was downgraded and put in a military punishment cell.

Carmen
That guy's been downgraded?
Zuniga
It's impossible for a weak woman to push a man and run away. He's been in jail for a month and just got out today.

Carmen
The tavern suddenly becomes lively. Escamillo, the bullfighter, entered with his fans in tow.
Escamillo's fans
Long live the bullfighters, long live Escamillo.

Vivat! vivat le Toréro!
Zuniga
He's a Toreador. Let's get him in this seat! Here's to your courage!

Escamillo
Thank you for having me, too. Soldiers and Toreador are the same things. They devote themselves to fighting. We fight the bulls in the excitement of the bullring.

Toreador Song: Votre toast, je peux vous le rendre
Carmen poured a drink into Escamillo's glass.

Escamillo
What's your name? I'll shout your name next time I'm in the bullring and I kill a bull.

Carmen
My name is Carmen. You are free to love me. But don't expect me to love you.

Escamillo
Ah! Well, let's wait and see. Don't give up hope.
Zuniga
Carmen. You're not coming with me, are you? That's okay. I'll be back here. Toreadors. Add me to your drinking buddies.

Escamillo
Escamillo leaves the tavern with his soldiers, fellow Toreadors, and fans in tow.
---
There are no more customers in the tavern. Carmen is talking to some of her people.
Smuggler man
I have a good deal for you. I need a female companion. Of course, they're going to join us.

Nous avons en tête une affaire

Carmen
As the gypsies were discussing, José's voice could be heard from outside the tavern.

Don José
José's voice: I am a dragon cavalryman of Alcala. We fight for honor.
The gypsies look at Jose from the tavern. The women say he's handsome.
Smuggler
We're gonna get that guy to join us.

Carmen
I wish I could get him to join us, but he can't. He's too serious.
Smuggler
There's no way you won't be one of the smugglers just because you're in love with a man. Master will not be convinced.
The men leave the tavern. The gypsy women chase after them. When Carmen is alone in the tavern, she hears José's voice.

Don José
José's voice: I am a dragon cavalryman of Alcala. Let's go to my beloved girl.
José came to visit her at the bar. Carmen is happy to welcome him.

Carmen
You're finally here! I sent you sandpaper and gold coins so that you could escape, but you didn't use them. You could have used the sandpaper to break the prison, and the gold coins to buy clothes to change from military uniform to plain clothes.

Don José
I'm a soldier. I can't afford the embarrassment of escaping from prison. So I decided not to use the sandpaper, but to keep it as a memory. I've brought this gold coin with me.
Carmen has her prepare a feast with gold coins.

Carmen
I think you have a grudge against me. You've been jailed and stripped of your rank of corporal.

Don José
I don't care about any of that. Because I love you.

Carmen
Gypsies never forget a favor. Come on, have a lot of food. Oh, by the way, Zuniga came to the tavern. I danced with him. Zuniga is hitting on me, saying he likes me.

Don José

Carmen
You're jealous. I'm going to show you a little dance I can do for you.

Je vais danser en votre honneur
As Carmen begins to dance, the sound of military bugles echoes in the distance.

Don José
That's the bugle call. We have to get back to the barracks.
He takes Carmen by the arm and makes her stop dancing. When he tries to return to the barracks, Carmen is furious.

Carmen
Why don't you just go back to the barracks? I don't believe in your love.

Don José
That's terrible. Believe me.

I kept this flower that you threw at me while I was in the military punishment cell. Even after they withered, they still had a sweet scent. In the darkness, I could smell the scent of the flowers.

I thought of hating you and cursing you. Then I blamed myself. I only had one wish left. I wanted to see you. Carmen, I love you!

La fleur que tu m'avais jetée
Jose takes out the flower that Carmen threw and tells her he loves her.

Carmen
No, you don't love me. If you like me, you won't leave me. You have to follow me.

Don José
No, I'm going back to the barracks. I'm leaving you forever.
Carmen tries to convince him, but Jose heads for the door to return to the barracks. Zuniga came back to the bar.
Zuniga
Carmen! I'm back. José! Why are you here? Get out of here!

Don José
I'm not leaving! I'm gonna hurt you!
Jose gets into trouble with Zuniga over Carmen, and they almost duel. The gypsy men come out and tie up Zuniga.

Carmen
I'm going to rope you up for a while. Jose, you're one of us now.

Don José
He bristles at his superiors and decides to leave the army. He joins Carmen and the smuggling ring.
Carmen: Act3, Synopsis
Near Seville, in the mountains
A rocky mountain in the middle of the night. A man and a woman are climbing the mountain with their luggage.
All
This business is not bad, but you need a strong heart. There are dangers above and below.

Notre métier est bon
Smuggler
You guys can rest here for an hour or so. I'm going to check the road to see if the contraband can be carried without any problems.
The gypsies are taking a break.

Don José
I'm sorry for yelling at you. Let's make up. Don't you love me anymore?

Carmen
I don't love you as much as I used to. I want you to stop telling me what to do and restraining me. I want to be free.

Don José
My mom probably thinks I'm still a good person.

Carmen
Why don't you just go home? I'm not going to stop you. This is not the right job for you. You'll die soon.

Don José
If you're going to say goodbye so much, you'll lose your life too.

Carmen
José doesn't say anything.

Carmen
My card readings predicted that we would die together.
Carmen is fed up with José's jealousy. The two gypsy women begin to read cards.
The two gypsy women
Mix and cut. Cards, tell me the future.

Mêlons! Coupons!

Carmen
I'll do it this time. The "death" card again. I'll die first, then José will die.
The smuggler man who went to check the road comes back.
Smuggler
Maybe we can make it. Jose, stay here and watch the luggage. The road is fine, but there were three tax officials.
Carmen and Two Gypsy Women
I'll take care of the tax official. I'm sure he likes to play with women as much as the next guy. Let us go first.

Quant au douanier, c'est notre affaire
To get the smuggled cargo through, the gypsy women, including Carmen, had to use their colors on the officials. Jose was left alone to guard the cargo on the rocky mountain.
---
Micaëla, Jose's childhood friend, appears in the middle of nowhere. Next to her is a frightening guide.
Guide
Spooky place, isn't it? If you stay here, you'll meet the gypsies. You're a gutsy girl, by the way. I'm going back to the village.

Micaëla
It's no big deal. That's about it. What do I have to be afraid of? I'm going to get the man I love back. From that evil bitch.

Je dis que rien ne m'épouvante

That's José on the rocks.
She hears the sound of gunfire and hides behind a rock.
---
Escamillo emerges from the darkness. The gunshot from earlier was José firing a gun at Escamillo, but it missed.

Don José
Hey! Who the hell are you?

Escamillo
Well, calm down. I'm Escamillo. I'm a bullfighter. I'm here to see Carmen. The last time I saw her, she told me she had another lover, but I figured she must have broken up with him by now.

Je suis Escamillo, toréro de Grenade

Don José
You can't have Carmen. You'll have to duel with a knife.

Escamillo
Oh, I see. So you're Carmen's lover.
Jose and Escamillo fight with knives at the ready. Soon, Escamillo's knife is ready to stab Jose in the heart.

Escamillo
That knife stance, you're from Navarre. But you're not going to win with that stance.

You know that. Your life is at my mercy, but my job is to stab cows. I don't stab people in the heart.

Don José
I will fight you to the death!
The fight resumes. Escamillo slips and is almost stabbed by Jose. At that moment, the returning smugglers and Carmen and the others stop Jose.

Carmen
Stop it, José!

Holà, holà! José!

Escamillo
It's nice to know that Carmen saved my life. I invite you all to the next bullfight in Seville.
The others hold back Jose's attempt to jump on Escamillo. Escamillo walks away with ease.
---
The men find Micaëla hiding behind a rock.

Don José
Micaëla! Why are you here?

Micaëla
I've come for you. Your mother is crying. She's in her little house praying and waiting for you to come home.

Carmen
You should go home. You're not cut out for our kind of work.

Don José
I don't want to. I'm not leaving. You'll go to your new lover.

Micaëla
Let me say one last thing. Your mother may die today or tomorrow. She wants to see her son.

Don José
My mother! Okay. But I'll be right back.
José decides to go home.
Carmen: Act4, Synopsis
The square in front of the bullring in Seville
The plaza with the entrance to the bullring. The bullfight will be held soon. People are gathering here.
All
Why don't you buy a fan? They sell oranges over here.
The place is crowded with orange and fan sellers and spectators gathered to watch the game. The gypsy women and Zuniga are standing around talking to each other.
The gypsy women
Carmen should be here soon to support her new lover, Escamillo. Speaking of which, what happened to her old lover, José?
Zuniga
José is being sought on charges of fleeing the army. He came to his mother's village and was about to be arrested, so he escaped. He'll be caught soon.
The gypsy women
If I were Carmen, I'd be scared.
---
Fanfares sounded as the bullfighters entered the arena.
All
The bullfighters are here. Glowing eyes. Gorgeous embroidered costumes. Wield the spear and kill the bull.

Les voici ! Voici la quadrille!
The crowd is excited to see the bullfighters enter. Beside Escamillo is a beautifully dressed Carmen.

Escamillo
Carmen, soon you'll be proud of the work I've done!

Carmen
I've never loved a man so much in my life.
Escamillo walks into the entrance of the bullring. Carmen watches him go. A gypsy woman calls out to her.
The gypsy women
Carmen, it's not safe for you to be here. I heard José is here.

Carmen
I just found Jose. I'm not afraid of that man. I'm going to talk to him.
The square is empty, and Carmen and Jose are the only ones left.

Carmen

Don José

Carmen
My friend told me that my life is in danger because you are here. But I'm fine. I'm not going to run away from you.

Don José
I'm not here to threaten you. Let's start over again. Let's forget the past and go somewhere far away.

I want to save your life, and you want to save mine. Let's run away together. We're going to save both of our lives.

Carmen
I don't love you anymore!

I don't lie to my heart. Carmen and José are no longer lovers. Carmen is free to live and free to die!
Cheers echoed from the bullring. Carmen turns to leave.

Don José
Where are you going? I'm not letting you go to that man with the applause! You're going with me. Do you love him?

Carmen
That's right! Even in death, I'll still love Escamillo.

Don José
You're going to laugh at me when I'm in his arms. Please don't go. I don't want to blackmail you.

Carmen
You need to make a quick decision to kill me or let me go. How long do I have to waste my time with you? Just decide.

I don't want the ring you gave me. I'm giving it back to you!
She throws the ring that Jose gave her at him. Jose is furious and stabs Carmen to death.

Don José
Somebody arrest me! I killed Carmen! I killed the woman I love!