Carmen: Summary
Carmen, a gypsy woman, throws flowers at Don José, a Corporal of Dragoons, on a whim. In a scuffle between the women, José catches Carmen. Carmen seduces José and runs away, and José ends up in jail instead of Carmen.
A month later, Carmen is in a tavern, waiting for José to return from jail. A Toreador, Escamillo, stops by the tavern and falls in love with Carmen. He is turned down by Carmen and leaves.

Carmen
My name is Carmen. You are free to love me. But don't expect me to love you.

Escamillo
Ah! Well, let's wait and see. Don't give up hope.
José comes to see Carmen. José's passionate love song. José causes a ruckus with his superior officer Zuniga. Jose leaves the army and joins a smuggling ring with Carmen.
A few months later, a rocky mountain in the middle of the night with a smuggling ring. The two are already on bad terms. A Toreador comes to visit Carmen. José and the Toreador get into a duel. José returns home after learning of his mother's illness.
Carmen and Escamillo are in love with each other. José shows up and kills Carmen.

Don José
Somebody arrest me! I killed Carmen! I killed the woman I love!
Carmen: Character Map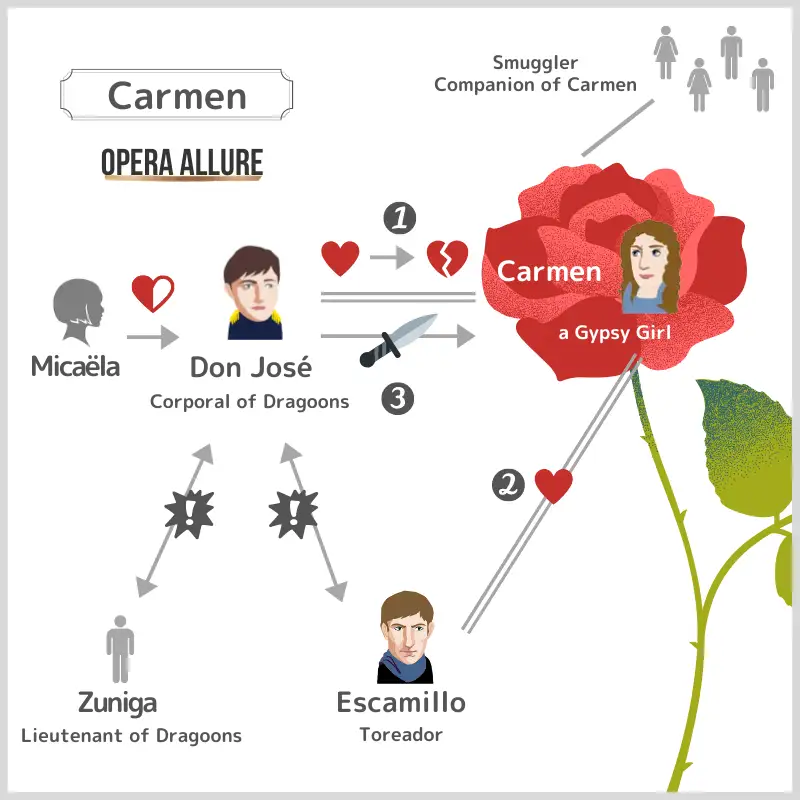 Carmen: Roles
| | | |
| --- | --- | --- |
| Carmen | a Gypsy Girl | mezzo-soprano |
| Don José | Corporal of Dragoons | tenor |
| Escamillo | Toreador | baritone |
| | | |
| --- | --- | --- |
| Micaëla | a Village Maiden | soprano |
| Zuniga | Lieutenant of Dragoons | bass |
| Frasquita | Companion of Carmen | soprano |
| Mercédès | Companion of Carmen | mezzo-soprano |
| Le Dancaïre | Smuggler | baritone |
| Le Remendado | Smuggler | tenor |
Native title: Carmen
Composers:

Georges Bizet

Librettist: Ludovic Halévy, Henri Meilhac
Based on: Carmen by Prosper Mérimée
Language:

French

Premiere: March 3, 1875, Opéra-Comique, Paris
Running time: 2 hours 40 minutes (Act 1: 55 minutes, Act 2: 45 minutes, Act 3: 40 minutes, Act 4: 20 minutes)