Tristan und Isolde, Tristan and Isolde: Character Map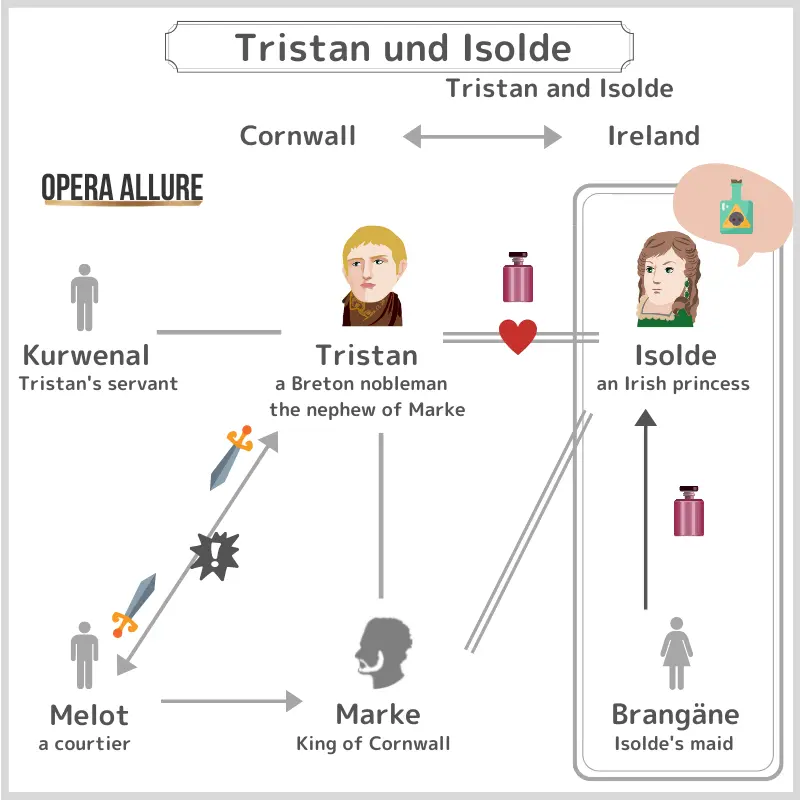 Tristan und Isolde, Tristan and Isolde: Roles
| | | |
| --- | --- | --- |
| Tristan | a Breton nobleman | tenor |
| Isolde | an Irish princess | soprano |
| | | |
| --- | --- | --- |
| Brangäne | Isolde's maid | soprano |
| Kurwenal | Tristan's servant | baritone |
| Marke | King of Cornwall | bass |
| Melot | a courtier | tenor |
Native title: Tristan und Isolde
Composers:

Richard Wagner

Librettist: Richard Wagner
Based on: Tristan and Iseult by Gottfried von Strassburg
Language:

German

Premiere: June 10, 1865, Nationaltheater, Munich
Running time: 3 hours 50 minutes (Act 1: 80 minutes, Act 2: 75 minutes, Act 3: 75 minutes)
Tristan und Isolde, Tristan and Isolde: Short Synopsis
Isolde does not want to marry King Marke. She poisons Tristan and is prepared to commit suicide. Isolde's maid of honor notices this and replaces the poison with an aphrodisiac. They drink the aphrodisiac. They fall in love, but a political marriage is inevitable.
Tristan and Isolde become intimate in adultery. Melot finds out about the affair and tells King Marke. Melot draws his sword, and Tristan returns fire.
Severely wounded, Tristan returns to his castle. Isolde arrives by ship. The two meet, but Tristan dies. King Marke arrives to forgive them. Isolde dies of grief.