The Merry Widow: Summary
Hanna Glawari is a widow who has inherited a millionaire's fortune. If Hanna remarries a man from another country, her fortune will belong to him. Therefore, Baron Zeta wants her to remarry a man from his own country, especially Count Danilo.
Hanna had been a lover of Count Danilo before marrying the millionaire but had broken up with him when his uncle objected. Danilo still likes Hanna. He is stubborn because he does not want to be a money-grubber.
While Hanna and Danilo have a petty quarrel, Valencienne is having an affair with Camille. Hannah and Danilo's romance goes well. Valencienne and Camille's relationship remains a secret.
The Merry Widow: Character Map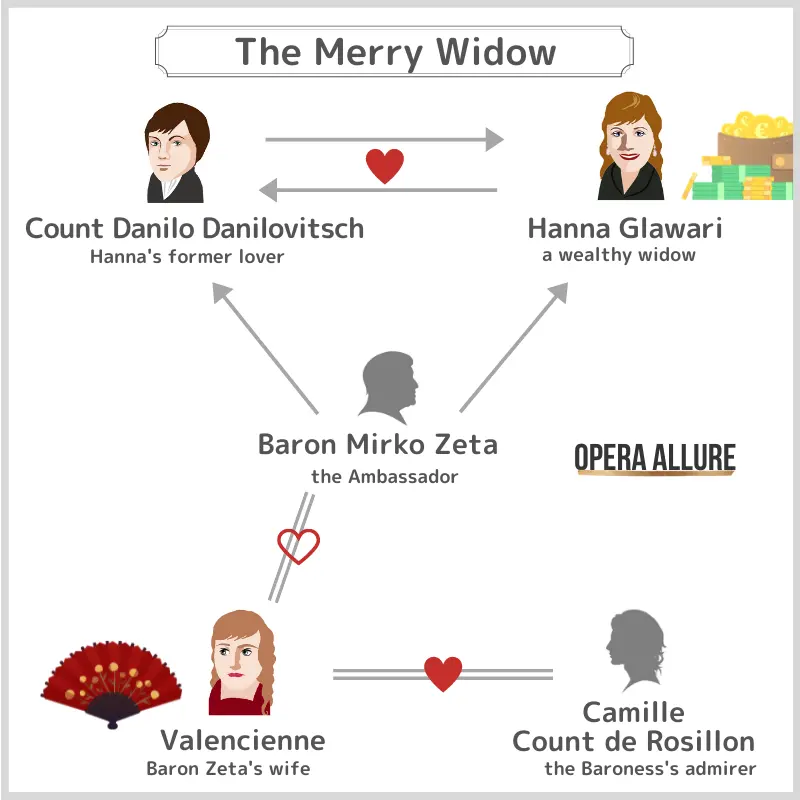 The Merry Widow: Roles
| | | |
| --- | --- | --- |
| Hanna Glawari | a wealthy widow | soprano |
| Count Danilo Danilovitsch | Hanna's former lover | tenor |
| Valencienne | Baron Zeta's wife | soprano |
| | | |
| --- | --- | --- |
| Baron Mirko Zeta | the Ambassador | baritone |
| Camille | Count de Rosillon | tenor |
| Njegus | the Embassy Secretary | spoken |
| Kromow | Pontevedrin embassy counsellor | baritone |
| Bogdanovitch | Pontevedrin consul | baritone |
| Raoul de St Brioche | French diplomat | tenor |
| Vicomte Cascada | Latin diplomat | baritone |
Native title: Die lustige Witwe
Composers:

Franz Lehár

Librettist: Viktor Léon, Leo Stein
Based on: L'attaché d'ambassade (The Embassy Attaché) by Henri Meilhac
Language:

German

Premiere: December 30, 1905, Theater auf der Wieden, Vienna
Running time: 2 hours 20 minutes (Act 1: 50 minutes, Act 2: 60 minutes, Act 3: 30 minutes)