The Queen of Spades, Pique Dame: Summary
A young officer, Herman, falls in love at first sight with Liza. But she has a fiancée. Herman hears a rumor among his friends that the Countess knows three cards that will always win the card game.
Instead of choosing her fiancé, Liza loves Herman. She calls him to her room near the Countesses. Herman tries to ask her about the secret of the cards and kills her.
The Ghostly Countess tells Herman the secret of the three cards: 3, 7, and Ace. Liza sees Herman delirious, possessed by the magic of the cards. She dies in despair.
Herman goes to the gambling hall. He bets on 3, 7, and Ace, but the card he thinks is the Ace is the Queen of Spades. Losing everything, Herman shoots himself in the chest with a gun.
The Queen of Spades, Pique Dame: Character Map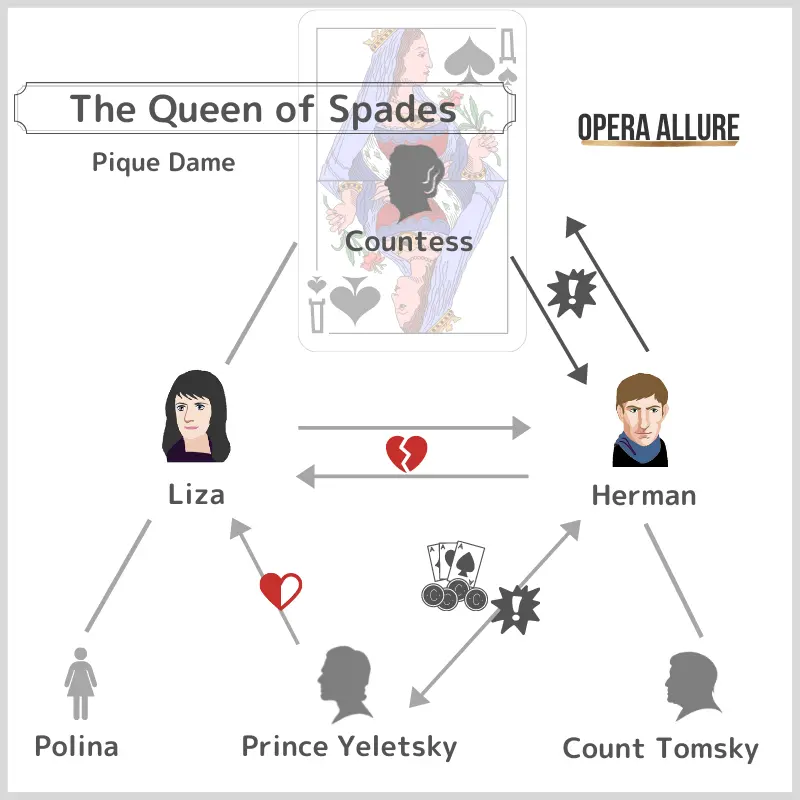 The Queen of Spades, Pique Dame: Roles
| | | |
| --- | --- | --- |
| Herman | an officer | tenor |
| Liza | | soprano |
| | | |
| --- | --- | --- |
| Countess | | mezzo-soprano |
| Count Tomsky | | tenor |
| Prince Yeletsky | | baritone |
| Polina | Liza's friend | contralto |
| Chekalinsky | Herman's colleague | tenor |
| Surin | Herman's colleague | bass |
Native title: Пиковая дама
Composers:

Pyotr Ilyich Tchaikovsky

Librettist: Modest Tchaikovsky
Based on: The Queen of Spades by Alexander Pushkin
Language:

Russian

Premiere: March 29, 1890, Mariinsky Theatre, Saint Petersburg
Running time: 2 hours 40 minutes (Act 1: 60 minutes, Act 2: 60 minutes, Act 3: 40 minutes)