Manon: Character Map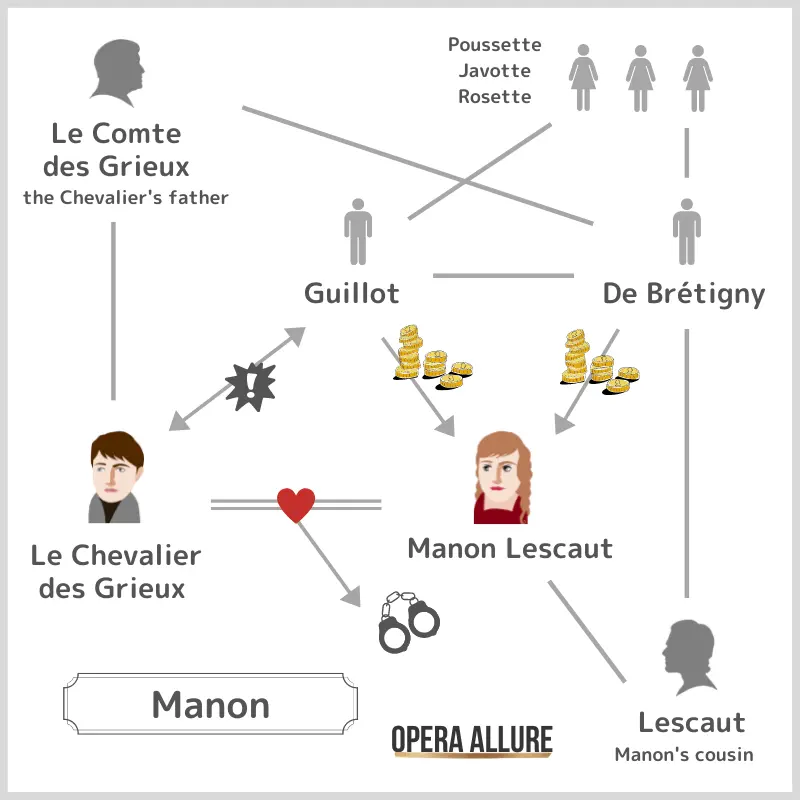 Manon: Roles
| | | |
| --- | --- | --- |
| Manon Lescaut | | soprano |
| Le Chevalier des Grieux | a student | tenor |
| | | |
| --- | --- | --- |
| Lescaut | Manon's cousin | baritone |
| Le Comte des Grieux | the Chevalier's father | bass |
| Guillot de Morfontaine | | tenor |
| Monsieur de Brétigny | | baritone |
| Poussette | an actress | soprano |
| Javotte | an actress | mezzo-soprano |
| Rosette | an actress | mezzo-soprano |
Native title: Manon
Composers:

Jules Massenet

Librettist: Henri Meilhac, Philippe Gille
Based on: Manon Lescaut by Abbé Prévost
Language:

French

Premiere: January 19, 1884, Opéra-Comique, Paris
Running time: 2 hours 30 minutes (Act 1: 40 minutes, Act 2: 20 minutes, Act 3: 50 minutes, Act 4: 20 minutes, Act 5: 20 minutes)
Manon: Short Synopsis
Guillot, an old nobleman, and De Brétigny, a nobleman, come to the inn with three prostitutes. A carriage arrives with guests. Among them is the beautiful Manon, and her cousin Lescaut greets her. Manon has come to town to enter a convent. Guillot suggests that Manon has a carriage to escape. Des Grieux arrives at the inn. Des Grieux and Manon fall in love. In Guillot's carriage, they go to Paris.
Des Grieux and Manon live in an apartment in Paris. Lescaut and De Brétigny visit them. De Brétigny tells Manon about the plan by Des Grieux's father to kidnap him and his proposal for a luxurious life. Manon chooses a luxurious life. ("Adieu, notre petite table")
A well-dressed Manon appears on the promenade in Paris. Manon is being helped with money by De Brétigny and Guillot. Des Grieux's father greets De Brétigny and tells him that Des Grieux has entered the seminary. Manon hears their conversation and heads for the seminary. Des Grieux is making an effort to forget Manon. ("Ah! Fuyez, douce image") Des Grieux and Manon are reunited and return to their former lives.
Manon and Des Grieux are trying to make money at a gambling den. Des Grieux wins the bet against Guillot, but Guillot returns with the police. They are busted.
Des Grieux is released. Manon is convicted. Lescaut bribes an official so that Manon and Des Grieux can talk for a little while. Manon, weakened by illness, passes away in Des Grieux's arms.