The Pearl Fishers is an opera in three acts by Georges Bizet. Set on the ancient island of Ceylon, it tells the story of two men who are friends and fall in love with the same woman but find themselves torn between friendship and love.
Highlights of The Pearl Fishers include Je crois entendre encore and Au fond du temple saint.
The Pearl Fishers, Les pêcheurs de perles: Character Map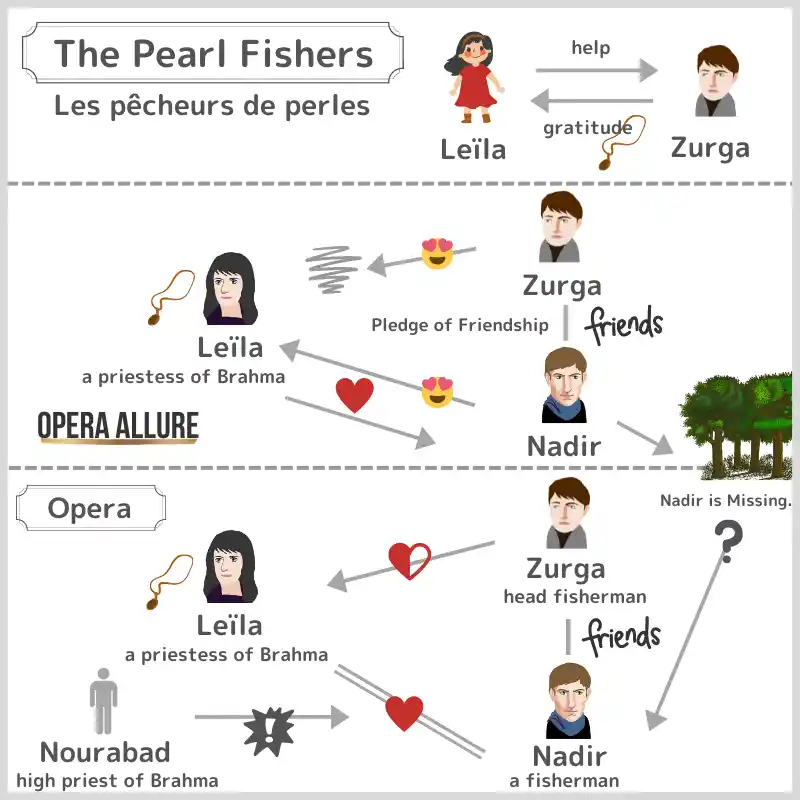 The Pearl Fishers, Les pêcheurs de perles: Roles
| | | |
| --- | --- | --- |
| Leïla | a priestess of Brahma | soprano |
| Nadir | a fisherman | tenor |
| Zurga | head fisherman | baritone |
| | | |
| --- | --- | --- |
| Nourabad | high priest of Brahma | bass |
Native title: Les pêcheurs de perles
Composers:

Georges Bizet

Librettist: Eugène Cormon, Michel Carré
Language:

French

Premiere: September 30, 1863, Théâtre Lyrique, Paris
Running time: 2 hours (Act 1: 50 minutes, Act 2: 40 minutes, Act 3: 30 minutes)
The Pearl Fishers, Les pêcheurs de perles: Short Synopsis
Events before the main story
Young Leila met Zurga and saved his life. Zurga gives her a necklace in gratitude.
Some years later. Nadir and Zurga are best friends. They fall in love at first sight with Leila. For the sake of their friendship, they promise each other not to approach Leila. However, Nadir meets Leila they fall in love.
Later, Nadir goes missing in the forest.
The Pearl Fishers
The coast of Ceylon, in front of a Hindu temple. Pearl fishermen perform a ritual before embarking on their dangerous work. Zurga is elected chief of the fishermen. Then Nadir, who has been missing for several months, appears. Zurga and Nadir are happy to see each other again and reaffirm their friendship. (Au fond du temple saint)
Leila, a priestess praying for the safety of the fishermen, appears on the beach. She notices Nadir but prays and returns to the temple. Nadir reminisces about his meeting with her. (Je crois entendre encore) Leila appears. They reaffirm their love.
When Leila is afraid to stay alone in the temple, High Priestess Nourabad encourages Leila to fulfill her role as a priestess. Leila tells Nourabad about helping a refugee as a child and receiving a necklace in return. Nourabad leaves. Nadir arrives to see Leila. He leaves, promising to return the next night, but by the fishermen on his way back. Zurga hears the commotion and tries to save Nadir but realizes that Nadir has broken their promise of friendship. As chief, he orders their execution.
As Zurga regrets his decision, Leila arrives to save Nadir's life. Zurga confesses his love to Leila, but she rejects him. As she leaves, she tells one of the fishermen to give the necklace to her mother. Nadir overhears the conversation and learns that Leila was once his benefactor.
The people want them executed. As Nadir and Leila prepare to die, Zurga appears and reports the fire. In confusion, Zurga unties them and gives Leila a necklace, saying it is a thank you for saving him life when she was a child. Nadir and Leila flee. Zurga stays behind. (Rev. The priest Nourabad realizes Zurga's betrayal and stabs him to death.)