Boris Godunov: Summary
Boris Godunov was a close subordinate of Ivan IV (Ivan the Terrible). Ivan the Terrible had two sons, Fyodor and Dmitry. Fyodor married Boris's sister. After Ivan the Terrible's death, Boris came to power as Fyodor's regent. Dmitry dies a suspicious death. Fyodor died.
Boris Godunov
The position of Czar of Russia becomes vacant. Boris is temporarily retired, but a group of noblemen elects Boris as Tsar of Russia. There is a famine in Russia, and the people are dissatisfied.
The monk Grigory learns from the old monk Pimen that Boris assassinated Dmitry. Grigory's ambition is to impersonate the dead Dmitry and take over the throne of Russia.
Boris begins to see the ghost of Dmitry and dies suddenly. The impostor Dmitry (Grigory), with the Polish nobility and the Jesuits behind him, creates a dissident faction and seeks the throne of the Russian emperor.
Scenes alternate between Boris and Grigory. Boris and Grigory never meet.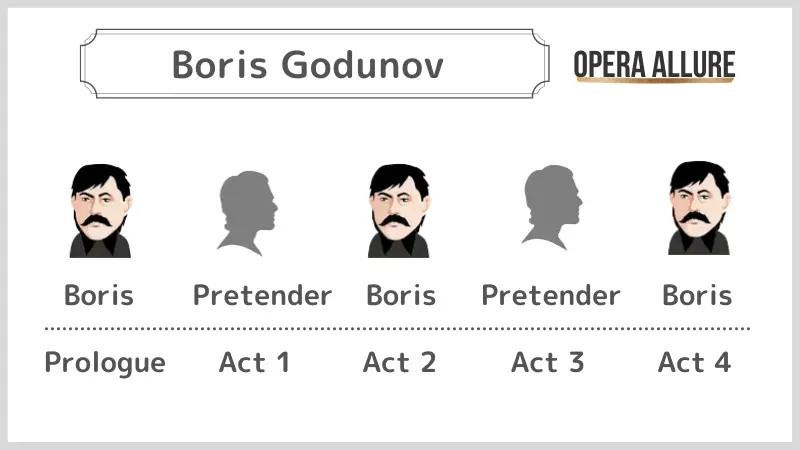 Boris Godunov: Character Map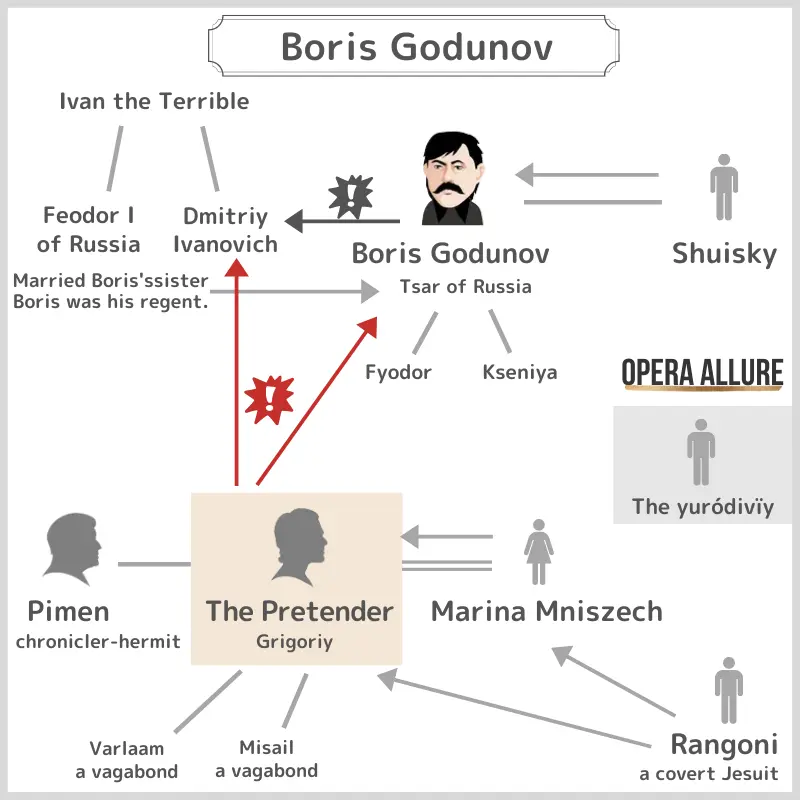 Boris Godunov: Roles
| | | |
| --- | --- | --- |
| Boris Godunov | Czar of Russia | bass-baritone |
| | | |
| --- | --- | --- |
| Pimen | chronicler-hermit | bass |
| The Pretender | Grigoriy | tenor |
| Prince Vasiliy Ivanovich Shuysky | | tenor |
| Marina Mniszech | the daughter of the Sandomierz Voyevoda | soprano |
| Rangoni | a covert Jesuit | bass |
| Varlaam | a vagabond | bass |
| Misail | a vagabond | tenor |
| Andrey Shchelkalov | Clerk of the Duma | bass-baritone |
| The yuródivïy | | tenor |
| Fyodor | Boris's son | mezzo-soprano |
| Kseniya | Boris's daughter | soprano |
| Kseniya's nurse | | contralto |
| The Innkeeper | | mezzo-soprano |
Native title: Борис Годунов
Composers:

Modest Mussorgsky

Librettist: Modest Mussorgsky
Based on: Boris Godunov by Alexander Pushkin and History of the Russian State by Nikolay Karamzin
Language:

Russian

Premiere: January 27, 1874, Mariinsky Theatre, Saint Petersburg
Running time: 3 hours 10 minutes (Prologue: 20 minutes, Act 1: 40 minutes, Act 2: 30 minutes, Act 3: 40 minutes, Act 4: 60 minutes)